Contact(s):
Jeannine Fontana
-
Co-Owner
Spring has sprung at Sonny Acres! Visit the West Chicago farm beginning in April 30th for an unmatched selection of fresh flowers and herbs, plants, soil and more just in time for planting season. Dates and hours of operation are listed at sonnyacres.com. A staple in the community for countless decades, Sonny Acres Farm offers endless opportunities for family fun, local shopping and event space for one-of-a-kind gatherings of any size. Boasting 22 acres of space, Sonny Acres is the ideal, customizable destination for weddings, corporate events, family gatherings and other special occasions. For an extra "wow factor" at your next event, treat your guests to some of the farm's unique seasonal offerings, including access to amusement rides, petting zoo, hayrides around the property and much more. Parking and admission to the grounds are free. Rides and attractions (wristbands sold separately) start Memorial Day weekend. 29W310 North Ave., West Chicago, IL 60185. (630) 231-3859
Spring flowers, plantings, and garden supplies. spring flowers, plantings, and garden supplies.
Extra-large Fern Hanging Baskets AND MUCH MORE! Stop and shop for the perfect gift for Mom!
• Doughnuts • Annual Flowers • Herbs • Vegetable Plants • Honey • Potting Soil • Mulch • Feed Cups for Self-Feed Zoo • Hanging Baskets • Jams and Jellies • Sweets • Fudge • Gift Cards • Salad Dressing • Salsa • Gourmet Chocolate
https://shopsonnyacres.com/pages/about-us
https://shopsonnyacres.com/products
https://twitter.com/sonnyacresfarm
https://www.facebook.com/sonnyacres
https://www.instagram.com/sonnyacresfarm/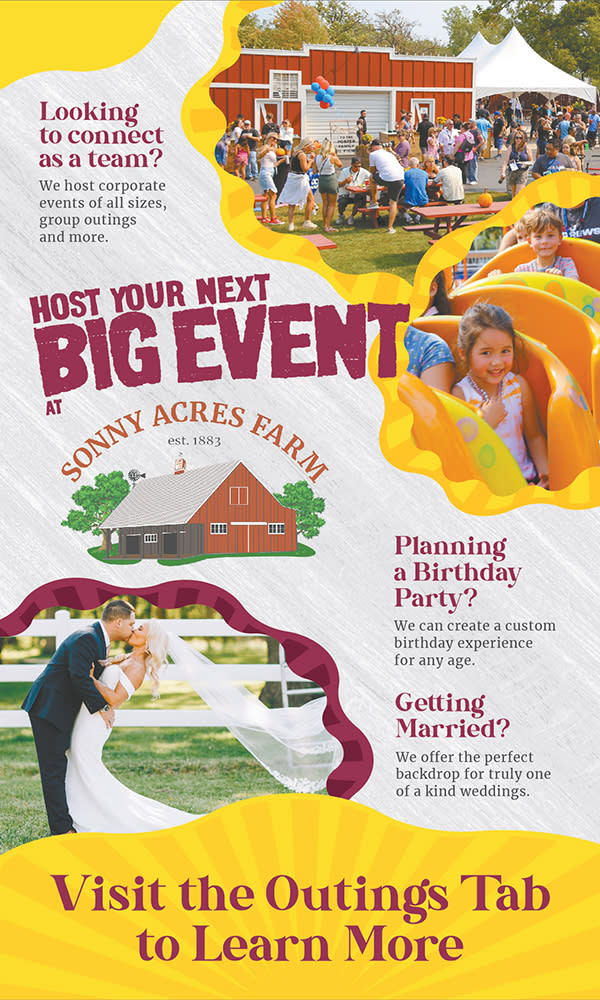 Join us for Passion for Fall Fest!!!
Videos
Sonny Acres Farm & WGN Around Town
WGN Around Town with Sonny Acres Farm
Sonny Acres Farms
Weddings at Sonny Acres Farms
Gallery
Host your next BIG outing at Sonny Acres Farm
We re-open April 30th with a bouquet of seasonal flowers and plants that make the perfect Mother's Day gift.
Sonny Acres Annuals
Sonny Acres Farm Store
https://shopsonnyacres.com/
Sonny Acres Honey
Pure Raw Local Honey
Spring your home into action with some natural accents. Your interiors and exteriors will look great with the addition of our hanging flower baskets. Stop in April 30th for our spring re-opening.
Mmmm-mmmm so good! Don't miss out on a trip to Sonny Acres Farm for a delectable apple cinnamon donut. Stop in April 30th for our spring re-opening.
Looking to add some healthy crops to your spring garden? Stop in for fresh vegetable plants that will diversify your yard and add nutrients to your plate. Stop in April 30th for our spring re-opening.